Are GAF shingles good? This is a question that many homeowners ask themselves when considering a new roof installation or repair. GAF roofing is a well-known and respected name in the roofing industry, offering homeowners and contractors a wide range of roofing products and solutions.
In this writing, we will take a closer look at GAF roofing, their shingle products, and its warranties to help you decide whether GAF shingles are the right choice for your home.
GAF Roofing Meaning
GAF Roofing is a well-known and trusted name in the roofing industry, with a rich history dating back over a century. GAF's commitment to quality and innovation has earned them a reputation as a leader in the industry. While GAF initially started as a company that produced photographic film, they have since expanded their product line to include a wide range of roofing materials.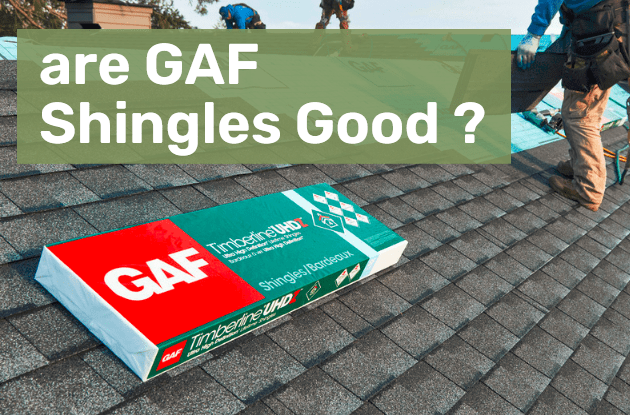 Today, GAF is one of the largest roofing manufacturers in North America, producing roofing products for both residential and commercial applications. GAF's roofing products are designed to be durable, long-lasting, and energy-efficient.
The company has produced high-quality roofing products for over 130 years and has built a reputation for excellence in residential and commercial roofing. GAF is known for its innovative products and commitment to sustainability, making them a top choice for homeowners and contractors alike.
Are GAF Shingles Good?
The short answer is yes. They are known for their durability, performance, and overall quality. GAF offers a wide range of shingle products to choose from, including:
Timberline HDZ: This shingle product is a top-rated shingle that offers a beautiful look and high performance. It has a lifetime warranty and features GAF's LayerLock technology for added strength and durability.
Timberline Ultra HD: This shingle product is a premium offering with superior performance and stunning aesthetics. It features StainGuard technology to prevent algae growth and has a lifetime warranty.
Camelot II: This shingle product offers a classic look and premium performance. It features Advanced Protection technology and comes with a lifetime warranty.
Sienna: This shingle product is designed to mimic the look of natural slate and offers exceptional durability and performance. It has a lifetime warranty and features Advanced Protection technology.
GAF shingles have gained a positive reputation among roofing professionals and homeowners, making them a popular choice for roof installation and repair. The fact that GAF has been awarded the Women's Choice Award for America's Best Roofing Brand for four consecutive years is a testament to their quality and performance.
Read also: The Best Time of Year to Remove Moss from Roof
GAF Shingles Warranty
GAF offers a variety of warranties for its shingle products, including lifetime limited warranties, 50-year warranties, and 25-year warranties. The specific warranty will depend on the shingle product and other factors, such as the type of installation and location of the home.
GAF's warranties cover many defects and issues, including manufacturing defects, algae resistance, wind damage, and more. However, it's important to note that GAF's warranties may have certain limitations and exclusions, so it's important to carefully review the terms of the warranty before making a purchase.
Final Thoughts
If you're still wondering, "are GAF shingles good?", the answer is yes! GAF provides an extensive selection of high-quality shingle products backed by solid warranties to meet your roofing needs. Their products are well-regarded and trusted by homeowners and industry professionals.
Rest assured. You can rely on GAF shingles to offer superior performance and durability for your roof. However, it's always important to review the terms and conditions of the warranty to understand the extent of its coverage. With GAF shingle, you can feel confident in your investment and enjoy a beautiful and long-lasting roof for years to come.