Gutter is the system that allows you to protect the house from many negative things occurred during the rain. Gutter diverts away the water drop from falling down to your house's walls. Therefore, it will prevent any paint damage.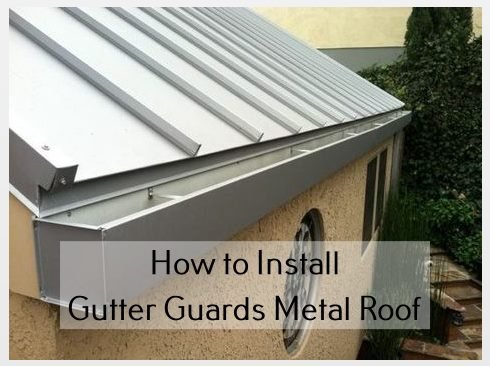 Besides, installing gutter can help to protect the house's foundation as it prevents flooding on the basement. In that case, it can help to stop mold from growing on the wall.
However, sometimes leaves or any debris can enter your gutter system. As a result, these unwanted items can block the downpipes. In case you are using a metal roof, you need gutter guards for metal roof.
Installing Gutter Guards for Metal Roof
Cleaning out the gutter system can be overwhelming for some. That's why, installing gutter guards for metal roof can dismiss away that difficulties. In case you want to install your own gutter guards, read this step-by-step procedure to install that easily.
Things to keep in mind
Keep in mind that you will need to clean your gutter guards still at least once every six months. If you own a tree growing near your house, that's best to clean it a bit more frequently; especially from leaves and twigs.
Also, if you leave the gutter guards for metal roof unclean, the weight can cause the guards to tear off.
Gutter guards to choose
There are many gutter guards to choose, especially if you are having metal roofing. However, if you want to have a sturdy gutter guards, you can have a metal guards as well, such as aluminum/steel material. Aluminum gutter guards can be considered as the best gutter system for metal roof.
It can also help to prevent leaves, twigs, or any debris that fall down to the guards quite strongly. In addition, it is made from a rust-free material.
Installing the gutter guards
Installing the gutter guards for standing seam metal roof is pretty challenging. For this article, the gutter guard used will be the aluminum gutter guard.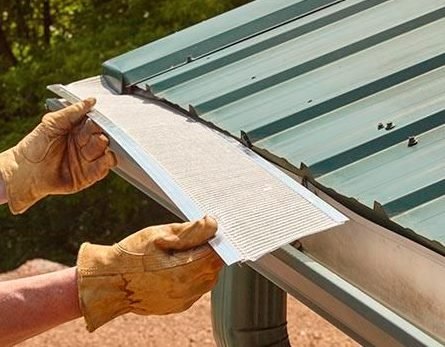 So, along the process, prepare a metal cutter since you may need to cut the edge of the gutter guard to fit the roof.
First, you will need to give a mark on your gutter guard first. Give the guard a mark to provide a bracket that match the roof line. After that, you will need to cut it with the metal cutter.
Do this as well for every spot that needs a bracket so that your gutter guard can be slipped in to the gutter pretty easily.
Then, after making sure that your gutter guard is ready, try to place it over the gutter.
Once you are sure about its position, on its inner edge that touches the drip edge, secure it with a screw.
Next, you will also need to secure the gutter guard with a screw the gutter guard's outer edge which touches the gutter outer side.
Do this repeatedly for the whole gutter.
Other things you need to consider before buying the gutter guards for metal roof are:
Make sure that the gutter guard can be installed onto your gutter. For this point, you should consider its size.
Make sure your gutter guard can prevent small animals to build up a living on or inside the gutter. Small animals here are including rodents or birds. To prevent this, choose a gutter guard that has fine mesh. But not too tight so that will make the water stagnant.
The main feature that's very important to have in a gutter guard is its filtration feature. Besides preventing the gutter from getting blocked with twigs, leaves, or any debris, this will also prevent you from replacing the gutter guard if the gutter guard is broken due to the heavy rain.
In conclusion, choosing the high quality gutter guards for metal roof is also important. Therefore, you will need to do a little research first to make sure the gutter guard is suitable for your roofing gutter.