The galvanized metal roof makes an eye-pleasing, durable, and low-maintenance material. Still, it requires cleaning as a form of maintenance at least once. Read below about how to clean a galvanized metal roof using a homemade solution and the best commercial cleaning products out there.
How To Cleaning Galvanized Metal
A galvanized metal roof sheet is made of steel with a layer of zinc on its surface, resulting in a highly durable roofing material that doesn't need a lot of maintenance. It has great resistance to corrosion and rust while still looking beautiful on its own without demanding paint or other types of covering coats.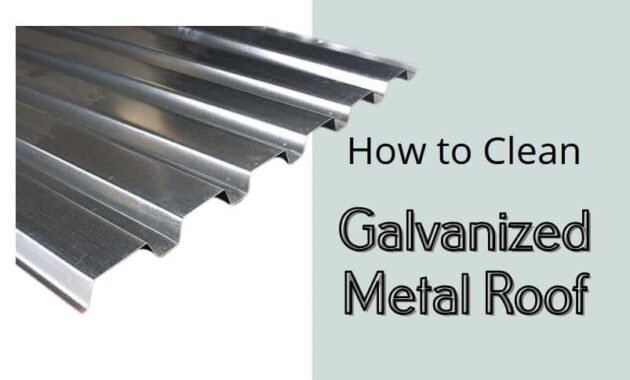 That being said, a galvanized metal roof is not immune to buildup of moss and dirt after some time. Moss development results in ugly green stains on the roofing sheets, while dirt accumulation can be boosted by snow and other pollutants.
Using this method, you'll need water, dish soap, bucket, cloth, soft-bristled brush, bleach, hose, metal polish, and gloves.
Follow the guideline below:
Clean light dirt on your galvanized metal roof by spraying them with a hose.
Prepare 3 to 4 gallons of water inside the bucket, then pour 4 cups of bleaching powder. Mix them well.
Dip your brush inside the mixed solution, then scrap the dirt on the roof. You may clean the roof from top to bottom or from one side to the other, according to the pitch of your roof.
Brush until the roof is cleaned, then rinse the cleaning solution.
Use a cloth to rinse and dry the roof, then use the cloth to spread metal polish on the roof.
Allow to dry, and your roof should be clean and all shiny afterward.
Best Metal Roof Cleaning Products
Roof cleaning is not precisely the easiest chore in the household. However, using the right commercial galvanized metal cleaner products may help to make the job simpler. Listed below are three of the best-chosen products in the market:
Simple Green Industrial Cleaner
This cleaner contains a biodegradable, non-hazardous formula. Boasting inflammable, non-corrosive, and non-abrasive qualities, it is safe to use on your galvanized metal roof, particularly in comparison to other chemical-based cleaning products.
Aside from roofing, it's also practically applicable for various washable surfaces such as floors, countertops, sinks, carpets, upholstery, etc.
Wet and Forget Stain Remover
Offering the benefit of infinite shelf life, this versatile product can be used on surfaces with different materials like metal, stone, asphalt, tile, clay, ceramic, painted surfaces, and many more.
The product is particularly designed to help eliminate tough stains without needing rinsing. Use the remover to get rid of mold, algae, mildew, and moss stain. Without bleach ingredients in its formula, it provides stain protection up to one year ahead.
Wash Safe ROOF WASH
This roof wash product is ideal for cleaning and getting rid of mildew, moss, and algae stains from various roofing materials such as metal, rubber, tile, asphalt, and many more.
The cleaner formula is based on oxygen, so it only has 4 to 6 hours of active lifespan before biodegradation. It is the safest commercial roof cleaning product on this list.
By following the guide on how to clean a galvanized metal roof or using the recommended commercial cleaner products above, you'll be able to achieve a shiny and clean roof. However, as roof cleaning is a dangerous project, it's recommended to ask for professional helps if you need one.