Metal material for roofing has become a viable and mainstream alternative for household properties – maybe with an exception of those with flat roof. If you are thinking of replacing shingle roof with metal roof, just learn more about it below.
Replacing a Shingle Roof with Metal
Metal used to be a roofing material that's solely found on architect-designed and luxurious properties. However, it has been increasingly used in all types of houses as well because of its availability and the advanced process of manufacturing nowadays.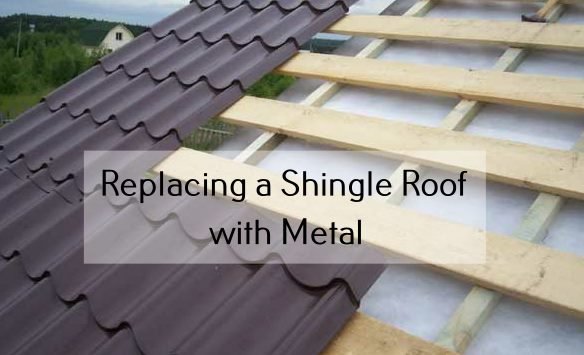 The statistic data within roofing industry has note, that each year the market share of metal material roofing is increasing steadily about 3% in the last couples of years.
Read also : Disadvantages of metal roofs
Recently, the metal roofing is used for 15% of the entire roofing installations. On the other side, asphalt shingles that used to dominate the roofing market share has decreased instead at roughly 59%.
Step By Step on How to Install Metal Roof over Shingles
If the local building codes in your area allows, replacing shingle roof with metal roof without tearing the asphalt shingles is actually possible. While removal is still an ideal option, it can turn quite messy and costly.
First method is to overlay new underlayment on top of the shingle roof to cover it up. In this scenario, the new underlayment serves as defensive structure in case water gets through the metal roof.
The benefit of this method is that the underlayment will be the buffer between existing shingles and the newly installed metal roof. The shingles will wear slowly due to the friction with metal panels if there is no buffer in between.
The second technique is to use battens or purlins when replacing shingle roof with metal roof. Here's how it's done:
Screw down the battens or purlins to the deck of your roof. The purlins depend on the metal panels design from the manufacturer.
Install the metal panels on battens or purlins.
The last method above allows you to have great flat surface before laying the metal panels down, without unevenness and grooves from asphalt shingles.
The majority of metal panels for roofing are comparable to the shingles with the best quality, with durability about 30 years. However, in practice, metal panels can last anywhere from 50 to 70 years. That's why it is extremely rare for homeowner to have to replace their metal roofing during their live period in the house.
On the other hand, there's a good possibility that homeowner needs to replace asphalt shingle in the span of 50 years for two to four times. Even though the initial cost of metal panels is higher than asphalt shingles, you'll be able to save money for a long-term use.
DIY enthusiasts often give a shot of replacing shingle roof with metal roof on their own, but it is not recommended in general.