Are you planning to build your deck roof from scratch? Then you have come to the right place. In this article, you will learn how to make a deck roof step by step.
That indeed is not an easy job—you may end up calling a professional to do so but consider taking this project as a project for fun because the satisfaction you get after successfully build it will be more than the satisfaction you get by hiring a worker. And it's guaranteed!
Read also: What is Decking on a Roof
Easy Procedure of How to Build a Deck Roof Step by Step
Building a decking with the roof is not an easy thing to do. But who doesn't want to have a chill patio for spending your after-work hours over a cup of tea? Building your deck roof may require a big budget, especially hiring someone to work on it. Why don't you try to work on it yourself?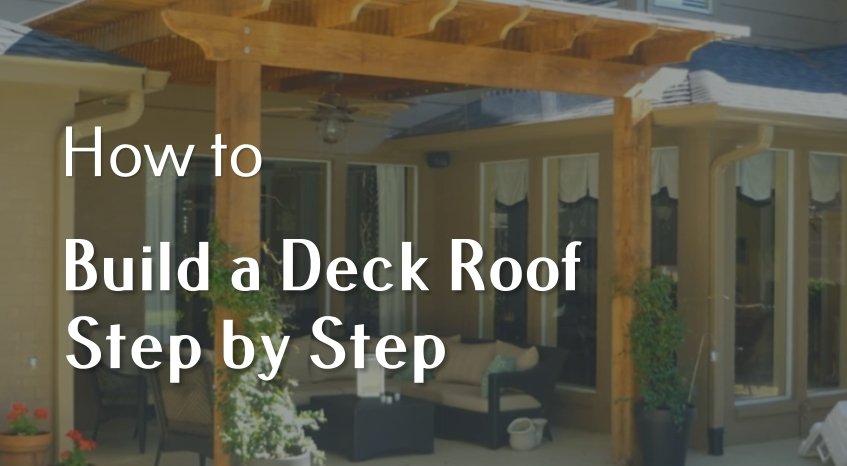 Make a planning
Planning comes as the first step to build your deck roof. What's on this step? There's a lot to do:
Learn what size of roof you want to 'put' on top of your deck. Is it only covering part of your deck, or is it fully covering?
Learn what kind of roofing you want to use. It's always fine to use a flat roof, but when you pick the sloped one, that can mitigate the waterdrops hence you won't need to clean it manually after rain.
Take your time to set the budget. Budgeting takes a lot of things to consider—especially when it comes to prepping the materials.
Take your time to survey and look at other designs.
Once you're sure of the plan, it's time to execute. Start purchasing the materials you required and gather any other resources needed.
Onto the next step of this procedure of how to build a deck roof step by step. The procedures of how to build a deck will be as follows.
After you set the pitch, place the notch for the beams on the house's wall. This will be the starting point of the roofing beams.
Then, install the roofing column and the including support for the columns. The columns can be installed directly on the deck's floor or on the ground. Or, you can put it on the deck fence, if there is one.
Continue by installing beams as the rafters. For each beam, place it over the columns, and then place the other end on the notch.
Place supports to ensure the beams are installed properly.
Then, work on the fascia board as well.
Continue by making braces on the rafters.
Ensure that all the rafters have been installed properly. Then, you can start putting plywood on top of the rafters. Secure it with nails.
As the last step, you can place some underlayment and shingle to beautify your roof.
For other kinds of deck roofing, you may require similar procedures. Make sure to learn it while planning your roofing.
Well, that sums up the procedure of how to build a deck roof step by step. It seems easy, right? To make the works done quickly, consider you have a partner to help you create the roof.