For you who want to upgrade your home's old exterior appearance, particularly on the roofing area, it may be great to consider installing architectural shingles. Besides, you can put an additional protection layer.
These materials are quite similar to common asphalt shingles, but there are some differences. The 3-tab shingle is a type of shingle that is flat on the roof and easy to install. If you want to know its installation process, see the step-by-step guide on how to install architectural shingles over 3 tab shingles below.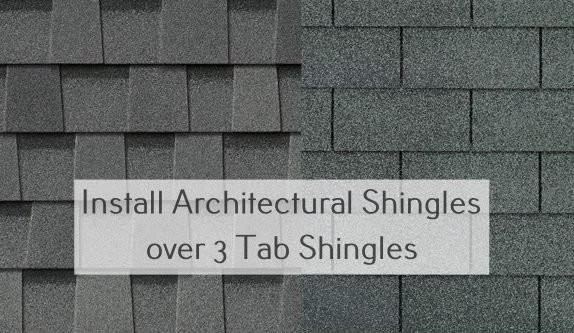 How to Install Architectural Shingles over 3 Tabs
Most houses, especially the old ones, are usually designed with regular 3 tab shingles. Even though they look like they have 3 different pieces, there's actually only one. They have lighter quality and cost cheaper, but less durability compared to architectural shingles.
One of the biggest benefits of using architectural shingles is that they're last much longer than the standard model. Thus your roof lifespan will also be increased. It might cost more to purchase and install, but you don't have to worry about its replacement for years.
Read also: Are Architectural Shingles Worth Extra Cost
Moreover, it adds more protection to the roof. Its modern appearance can raise the home value as well. Compared to other roofing materials, architectural shingles are amongst the most energy-efficient ones.
Now, if your home is already using the standard shingles, you may want to update by putting architectural shingles over 3 tab shingles. It costs you less compared to dismantling the roof and start from zero again.
However, it must be noted that overlaying architectural roof shingles over 3-tab should only be done once because there is a risk of future problems that may induce pricey reparation and shorten the roof lifespan.
If you think of doing a DIY project on this matter, then check out first the guide on how to install architectural shingles over 3 tab shingles in the following:
Begin by nailing down the very bottom row of roof shingles.
Set shingles from the sides, and arrange them to overlap with each other as you go on.
Ensure that the first shingles' row you lay must extend the drip edge for about one inch.
Nail down each shingle with four nails for each. Set it on under the tar perimeter and about 0.5-inch under the overlapping shingles.
Complete each side first, then set the ridge cap shingles. Start from the left side to the right side in an organized way.
Ensure the shingles overlap with one another, so the nail under them is covered, then nail the upper part down.
Continue the 6th step on how to install 3 tab shingles until all the roofing area is covered.
Cover all the nails with roofing tar to make them waterproof.
Architectural shingles cost about $25 per sq ft. The price is obviously higher compared to regular shingles, but the quality is worth it. As mentioned above, it has great durability. Architectural shingles can offer better insulation, and when you add home value increase to the equation, you may consider they are actually affordable.
If you want to install standard composition shingles or random cutout shingles, then the installation methods are similar. You'd be able to complete the overlaying project of 1,500 sq ft in a couple of days with the help of one or two persons.
While the guide on how to install architectural shingles over 3 tab shingles provides you a simpler and easier way to perform the roofing project, it is not a task for everyone. It's always better to discuss or ask help from a professional roofer or the construction service company first before deciding to do it yourself.