Many homeowners have a patio or deck that requires a covering. However, many don't have adequate proficiency on how to attach roof over deck from house. Consequently, they decide to call a professional to do the job.
As a matter of fact, this kind of job might be relatively easy to complete than most people think. But you will still need to have the proper skills and equipment for the job.
Attach Roof Over Deck from House
You may often find an uncovered deck area since the owners might not want to spend lots of costs. But they actually make a mistake. A decking area made of wood will wear much more quickly if this space is exposed to extreme elements, particularly rain.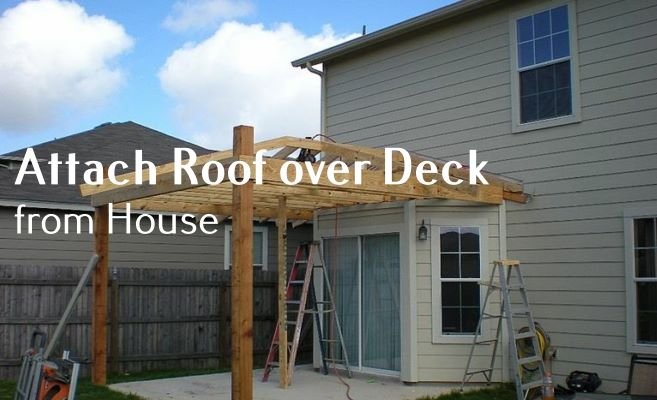 Adding a roof over the existing deck will give you several benefits, including using it anytime you want without minding the condition outside. A roofed deck can also elevate the value of your residence. However, if you are planning to have a covered deck, there are several things you must consider, such as:
Think about how you will attach the roof over your existing deck. If there is a gap between the deck and the house, you can have a stand-alone cover.
If your deck is located near the back of your residence, attaching a cover over it might need a particular skill that you don't have. Thus, consider calling a trained roofer so that he can do the job for you.
Try to get some complement material when you start building the deck cover. Consider using the same type of wood and use a similar product to get the same finish.
How to Build a Shed Roof Over a Deck
Carefully measure the deck to specify the space of the shed roof. Select a design that isn't too difficult and requires many different kinds of angles to be trimmed.
For the shed roofing, purchase 2 x 6 inches of wood decking boards. Use an electric circular saw to cut the support columns and rafters. Attach the rafters and build the structure by using a screwdriver and 4-inch screws.
Using anchor bolts, add the shed cover to the frame of the house. Also, note that the structure might fall if you only use screws to attach it to the house's frame.
Attach ½ inches of plywood on top of the shed roofing. To add protection, consider installing tar paper then followed by asphalt shingles. Use exterior-grade paint to paint the bare wood spots as it will increase the longevity of the roof. Install splash blocks, downspouts, and gutters to prevent the rain from entering the deck.  
If you want to add light fittings, install the power wires to the shed cover. To protect them from any element, put the cables inside an electrical conduit specifically made for the exterior. If you want to have electricity in the deck area, consider installing ceiling fans as well.
Keep in mind that if you want to attach roof over deck from the house on your own but have limited carpentry skills and are incapable of cutting angles properly, consider purchasing brackets in any hardware store.