Having a house with a metal roof in a region with warm weather will make everyone inside it feel uncomfortable when the heat strikes. The metal roof is indeed sturdy enough to endure strong winds.
Yet, it still needs a specific action to make the roof unable to keep the heat during summer. That's why installing insulation under metal roof is a must thing to do.
Heat insulation can be used in many different conditions and has multiple benefits. Not only does it keep the heat away during summer, but it also reduces the use of air conditioning the moment the insulation is installed.
Insulation Under Metal Roof
Like the name, insulation is a brilliant way to eliminate extreme heat and generate protection to combat the heat through the house's interior.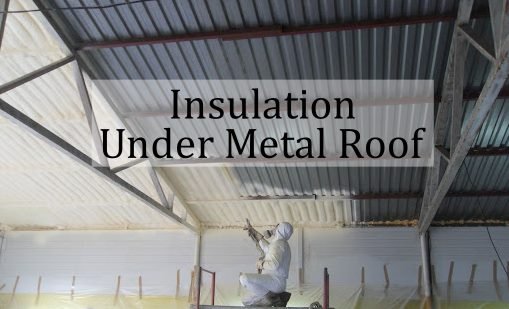 For example, putting insulation under the metal roof will prevent your home from losing heat during winter and remove heat in summer. It is because the metal is a material that is great for conducting heat.
What are the benefits of installing insulation to endure warm and cold weather?
During winter, insulation can maintain heat by producing warmer air within the house.
Properly putting insulation will reduce the cost of power.
In large buildings, installing insulation can also be reduced the use of heating, air conditioning, and ventilator and save expenses.
Double Bubble Insulation under Metal Roof
Several materials can be used in installing roof insulation. Double bubble insulation, for example, is the most effective insulation for a metal roof and can be used as additional heat protection to avoid condensation.
Double bubble composed of two sheets of air bubbles piled up between two surfaces made from metal. Double bubble insulation can be applied under a metal roof. It can also be installed in crawl spaces, pole barns, basements, and other areas requiring insulating material.
Rigid Foam Insulation Under Metal Roof
Another material that can be used to put metal roof insulation is rigid foam. It comes in layers of various sizes, created from polyurethane and sometimes made of polystyrene. Some people tend to choose rigid foam because it provides optimum heat resistance when the layers of rigid foam are mounted together, and the gaps are tightly sealed.
Because rigid foam is way thinner and thicker than the other alternatives, this material can be applied with fewer gaps that can help prevent air leakage.
However, it should be adequately installed to avoid severe damage caused by UV rays. Besides, every hole must also be tightly sealed to prevent airflow during installation.
Installing insulation under metal roof is a must thing to do, more importantly for houses in warm or hurricane-prone areas. Since it will help save expenses by reducing electricity use, keep the heat during cold weather, and remove extreme temperatures in the summer.
You can find out which material is the most optimal to insulate metal roofs by reading the elaboration above.