While it is true that neutral tones such as asphalt shingles, wood, and metal roof are timeless and have their own appeal, they can get boring for a while. It is also possible that they don't suit with the aesthetic of the rest of your house.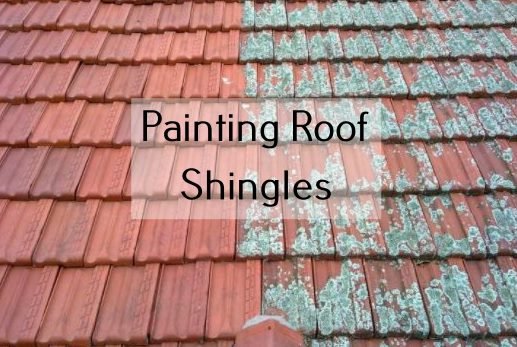 Painting roof shingles is an alternative that you might want to consider to live your property up. As you may have already known, painting is a practical solution to improve the building appearance, including the roof without having to disturb its structure.
Read also : Things to Know about Painting a Metal Roof
Painting Roof Shingles Black
Dark color, such as black, whether it comes from painting or natural material's color, has ability to absorb heat and create warmer temperature. However, this could also depend a lot on the material type.
In general, Painting roof shingles in black can match with wide range of building's color or tones, such as white, light gray, beige, red, green, brown, or weathered wood.
Painting Roof Shingles White
As being the exact opposite of dark shades, the roof with light-colored paint or materials suits well for places with warmer climates. It is the reason why white roof is a popular choice is South America, North Africa, and Mediterranean countries.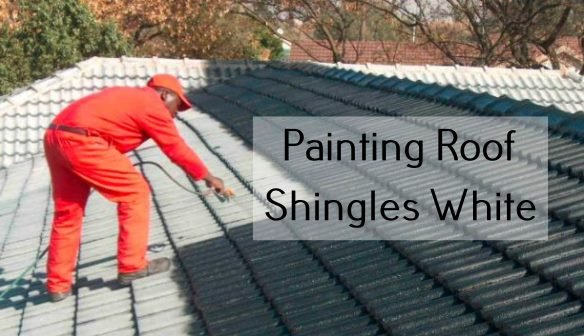 Read also : Can You Walk on a Metal Roof
Cost to Paint Roof Shingles
The costs of roof painting project vary a lot from place to place. It typically requires the painters to inspect your property in advance to discuss about it. You can try to roughly estimate it first yourself by using guides below.
Labor Cost
The labor cost for painting roof shingles is rated hourly. It depends on the skill and time of painters, but in average it ranges between $35/hour to $55/hour.
Hourly rate for low-end roof painting
You can find roof painters that charge in lower rate, but they generally are beginners in the industry, for $25/hour to $35/hour.
Hourly rate for medium-end roof painting
Roof painters that already established clientele and have experiences about one to five years typically can provide better workmanship and shorter period of project. They usually charge anywhere between $35/hour to $45/hour.
Hourly rate for high-end roof painting
To get premium roof painting service, you may opt for high-end painters. They usually highly experienced, has strong clientele establishment, and has highest standard of workmanship. They can charge in the range of $45/hour to $75/hour.
Product Cost
The next factor that adds up to the total cost of roof painting is the cost of paint product. Different brands of course have different quality, outcome, and price range. Here are the estimations of several common paint products for roof:
Exterior paint for roof: $220 / 10L
Exterior acrylic paint for roof: $170 / 10L
Exterior emulsion coat: $180 / 20L
Paint coat with Nano technology: $210 / 10L
Paint coat with heat reflective technology: $350 / 20L
Filler for surface: $150 / 20L
Size of the roof
Last but not the least factor that determines painting cost is the size of your roof. Usually, roof painters will charge by square meter unit. Here are the rough estimations of painting cost based on the roof size:
Small-sized roof: $2,000 to $3,500
Medium-sized roof: $3,000 to $5,000
Large-sized roof: $5,000 to $15,000
Roof shingles are often thought as being merely a decorative piece rather than being thought of its function. However, their quality can determine the lifespan of your house as well as increasing the property value.
Painting roof shingles is one of the many home improvement methods to upgrade quality of your living space, so it can have extended years to live before deteriorating.