Modified bitumen roof is one of the many materials for roofing using widely in the USA and Canada. This material stands much better under certain climate conditions. But what is it, and why should we know about this material?
In this article, we will discuss this specific roofing material and other things related to the material you need to know.
What is Modified Bitumen Roof?
Modified bitumen roof is a roofing asphalt. The main material is asphalt, and some other materials like polyester and fiberglass are added to make a stronger flat room. This roofing type was developed for the first time in the mid-1960s in Europe and has been used widely in Canada and the United States since the 1970s.
This material was developed according to the condition back then. The oil refineries wanted to use crude oil products, which made the asphalt by-product decreased in quality.
Some manufacturers modified the asphalt by adding some other materials like plastics or rubbers and glue it to polyester or fiberglass.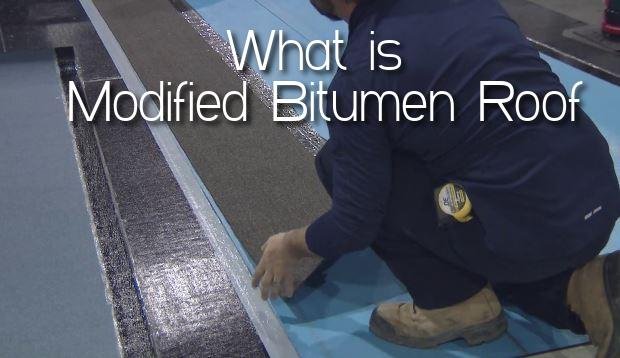 This material is used for buildings with a flat roof or low slope. Bitumen roof also offers various advantages since there are many methods available to install the roofing. It provides excellent waterproofing quality.
The installation cost is considered competitive compared to other products that offer similar life expectancy. Since this roofing type is packed with high tensile strength, this also offers excellent weather resistance.
There are two types of polymers used to enhance the modified bitumen roofing. They are such as APP polymer and SBS polymer. Other than that, the roofing system can be installed in several ply systems, while the most common installation is the two-ply system.
This roofing system offers an excellent technology where you have a better strength of the roof and ultraviolet protector so the material could last longer. Other than that, it has great flexibility considering you can apply this roofing to every type of house, preferably flat and low slope. Even though the installation cost might be high, it has a competitive life-cycle cost.
Modified Bitumen Roof Life Expectancy
The life expectancy of modified bitumen roofing is up to 16 years in Florida. The average lifespan is about 10 to 15 years if this is used in an average condition. Some factors could make this material stands shorter.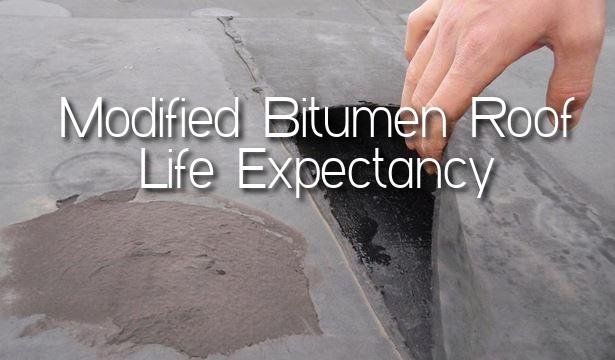 For example, the dark color absorbs more amount of heat. On the other hand, this could cause a short lifespan of the roof. Other than that, the roof slope angle also plays a role in the lifespan of the room. Truth be told that a higher pitch roof tends to last longer. The orientation of the surface also affects the lifespan, and if it is exposed to sunlight more often, it could reduce life expectancy.
Make sure the installation is proper, considering it also affects the lifespan of the roof. You need to clean the roof frequently when the rainy season comes. Since the roof is commonly flat, the leaf debris accumulation might not be washed away perfectly. We also advise getting a "non-economy" roof material for a longer lifespan. The climate condition also contributes to the life expectancy of the roofing.
Modified Bitumen Vs. Roll Roofing
Modified bitumen roofing is heavier than roll roofing. It offers a 10 to 15 years lifespan, and the asphalt is tied to the roof neatly. It does not require nails or other stuff like the roll roofing needs. This roofing material is also available in the self-adhering version.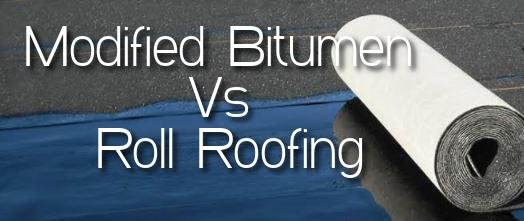 Meanwhile, the roll roofing is pretty lightweight and suitable for tight the budget for the roof. This material is available in 36-inch wide roll with 100 square feet length per roll. Averagely, it offers 6-10 years of life expectancy. The installation is nailed so that you may see nail heads on top of the roofing. This type of roofing is popular for barns, porches, and sheds. It will not be a perfect choice for a re-roofing project considering its short lifespan.
Both roofing types are suitable for flat or low-slope roofs. However, if you need a roofing material with excellent strength, then the modified bitumen is your option. Meanwhile, if you prefer material that fits your budget, then you should consider roll roofing.
Cost of Modified Bitumen Roof
Generally, the actual cost depends on the material quality, the area you live in, installation complexity, and some other factors. Approximately, it costs USD 1.50 up to USD 3.00 per square foot. If you have a 1,500 square foot roof, you may need to pay for USD 2,250 up to USD 4,500.
On the other hand, you may need to pay for USD 6,000 up to USD 12,000 per 1,500 square foot rood if you want to strip and dispose of the existing roof before installing the modified bitumen roof.