Unlike any other small objects of a metal roofing installation, the sealant might seem like an insignificant component. Even though the sealant may not be seen, it is actually one of the roof's vital parts.
Besides, it has a role in providing secondary protection toward harsh climates. Sealant basically is a material used to seal something, so it becomes waterproof or airproof. Generally, it is used in several applications, including in metal roofs.
Gun caulking and tape sealants are also known as two kinds of sealants regularly used in metal roofing. This time, we will focus on the tape sealant known as butyl tape metal roof and why it is essential in metal roofing.
Read also: Joining Two Roofs with Different Pitches
Butyl Tape Metal Roof
A tape sealant or known as a butyl tape metal roof is another vital type of sealant. It usually comes in the form of rolls, and each one of them has different shapes, thicknesses, and shapes. Butyl tape can stick to a wide range of materials. That is why it is frequently used in metal roofing.
Butyl tape metal roof is made out of butyl. It is a synthetic rubber consisting of isoprene and copolymer. That is why this tape sealant is super sticky and not only can be applied to a metal roof but almost any kind of roof application.
Is Butyl Tape Necessary for Metal Roofing
Not every part of the metal roof requires butyl tape. Below are the situations where the butyl tape metal roof is needed:
Metal to metal installation in which the metal will be attached or fastened.
On the bottom of the inverted cleat and z-closure.
Under a pipe cap as it will be connected to the metal plate.
Do not use the butyl tape when :
No part must be fastened or screwed down.
It requires a specific metal roof seam tape in the middle of panel seams, not just a butyl tape.
On the other side of z-closure.
How to Use Butyl Tape on Metal Roof
Before applying the butyl tape to the metal roof, you should purchase this tape sealant first. If you type "where to buy butyl tape" on a search engine, you will get an array of different results that show you where you can purchase this tape sealant.
This type of sealant can be easily attained in the nearest hardware store. Still, if it's impossible to get out of the house, you can order it through the online marketplace and get ready to apply it on the metal roof.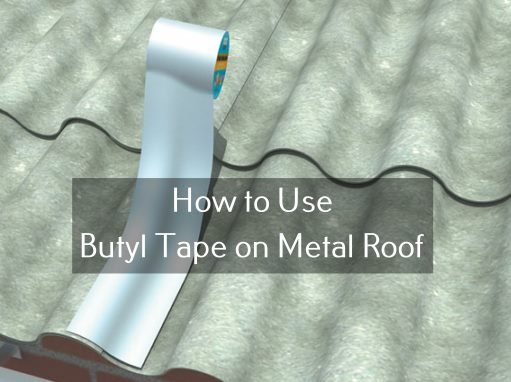 For instance, the butyl tape can be applied when there is a z-closure. But before using it on the metal surface, clean up the surface out of debris and dust first. Apply the butyl tape between metal plates, just like using regular double-sided tape on the paper.
The moment all three layers are fastened together, the materials will be flattened out. It is because every four inches of the materials are sealed to the core.  The last part is extremely vital because it will compress it out for about two inches on every side when a butyl tape is applied. That is where a butyl tape successfully creates a tight seal.
As we already know, a butyl tape metal roof is as vital as other components on metal roofing. That's why it is crucial to see the use of it. However, keep in mind you always need to use a specially made sealant made for metal sheets, and do not forget that it's only secondary protection against harsh weather.