In the last few years, many homeowners always opt for composite decking due to its high durability, easy maintenance, and of course, its elegance. Those who choose this material will spend much more time enjoying their decks' beauty and far less time maintaining their condition.
However, this material does require occasional maintenance, and cleaning composite decking with vinegar has been one of the most effortless cleaning methods to perform.
Homemade Deck Cleaner Vinegar
Many manufactured deck cleaning products are highly accessible in the market, and some of those cleaners do an excellent job of maintaining the cleanliness of your deck area. However, many of them are made of chemicals that might be dangerous for plants or even children.
You surely don't want to have a hazardous decking cleaner in your house, especially if you have kids. As an alternative, you can make your own cleaning product with all the ingredients you already have at home.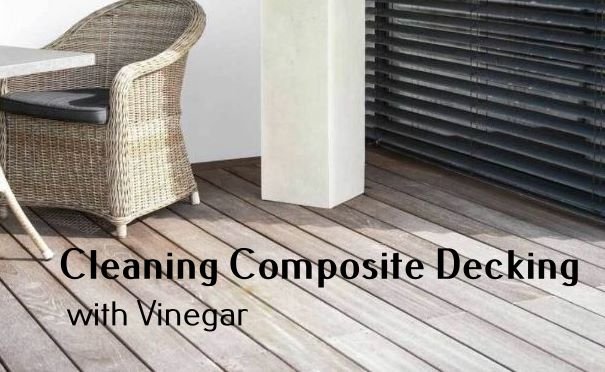 A mixture of vinegar is the ideal composite decking cleaner if you need a more natural cleaning solution.
Here is how to make a homemade decking cleaner from vinegar:
Using vinegar to clean the entire deck area is not really effective. Still, it's one of the most natural ingredients you can use. To make the cleaner, you will only need to mix a gallon of warm, clean water with a vinegar cup, especially the white one.
If you don't want to mix the vinegar with warm water, consider pouring two cups of white vinegar over the stained spots.
To apply this cleaning product, you don't have to use a pressure washer or sprayer. Use a paintbrush, dip it in the cleaner, and paint it over the stained areas.
Let it rest for about 10 up to 15 minutes, and use a stiff broom to brush it before rinsing it with clean water. If you use teak wood to build your deck, consider using this mixture since it requires a delicate product to maintain its natural look.
Cleaning Deck with Vinegar and Baking Soda
Mildew and mold are two of the most common issues that many homeowners face, especially in their deck areas. The two types of fungus are damaging the structures and cause severe long-term health conditions.
These include cardiac disease, breathing problems, fatigue, migraines, and joint pain.
Besides, sneezing, coughing, and inflammation of the skin, eye, and throat may be present for those who have a mold allergy. That is why it's necessary to get rid of the mold and the mildew from your deck. Removing these two types of fungus is not that difficult. Here is how to do it:
First off, clean the mold as much as you can with a pressure washer.
In a large bucket, add two cups of household vinegar and one gallon of clean water. Apply the cleaning solution over the moldy areas, and sprinkle it with baking soda.
Let them sit for around 20 minutes, then use a bristle brush to gently scrub the stained area until you remove the excess mold and mildew. Rinse the area with clean water.
While cleaning composite decking with vinegar is not the most effective cleaner, it proves to be the most ecofriendly solution product. You can use it to remove easy-to-clean stains on your deck area without causing any damage to nearby plants.