If you want to know more about what roll roofing is and other details about it, read the information below and get yourself familiar with the system.
Re-roofing is a project that requires a lot of costs and comes with high complexity – that's why it is common for many people to feel hesitant about doing it. If you find yourself to be one of many with this doubt, you may want to consider doing roll roofing.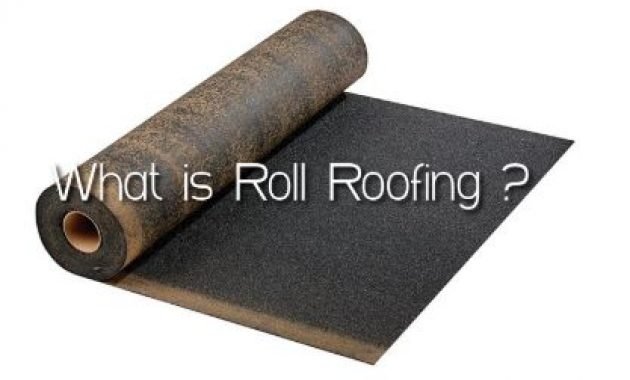 It is probably the most affordable and the easiest roofing materials to purchase and install.
Rolled Roofing Lifespan
So, what is roll roofing anyway? Also known as rolled roofing, it is an MSR or mineral-surfaced roofing product. The material comes in rolls with 100 square feet, or about one composite shingle square if you compare it in terms of quantity. It is considered the cheaper solution to asphalt shingles with similar qualities, although decidedly thinner and less durable.
See Also : Rubber Roofing Rolls Installation
In general, the lifespan of roll roofing can be anywhere from 6 to 10 years. Some high-quality ones can last for 15 years. You can see that the average life is shorter than conventional roofing material.
This material is a less popular option for residences because it has a chance for future leaks. This unfortunate reason exists because series of nails are used to attach roll roofing, and each nail has the opportunity to present leaks.
Roll roofing cost is also a factor determining its lifespan – as quality typically comes with the cost. Here are the estimations of cost if you're interested in installing them:
The material itself costs about $30 to $100 for each square foot. Multiply the material cost by your roof size to find the total material cost.
The installation costs about $1.50 to $3 for each square foot. Multiply the installation cost by your roof size to find the total installation cost.
If you already have an existing roof, the removing and disposing jobs cost about $1 to $2 for each square foot. Multiply the removing and disposing of costs by your roof size to find the total installation cost of them.
Rolled Roofing Installation
After you know 'what is roll roofing', you might want to look at the installation process. Peel-and-stick, or self-adhesive, is one of the many types of rolled roofing materials. Self-adhesive rolled roofing is an option that has the benefit of faster installation time.
Here are the steps to install it:
Clean the roof deck from debris by sweeping it. To clean ingrained oil marks and dirt, use a degreaser. Then wipe with a damp cloth to remove the remaining dust.
To make sure you have a smooth surface, hit raised nail heads to the roof deck. Read the manufacturer's instructions first to decide if you need asphalt primer or not.
Line up the length of rolled roofing with the lowest side of your roof. Put the roofing sheet's edge accurately and smooth it down to adhere it to the roof deck.
Peel the sheet back and smooth it down to prevent wrinkles. Cut the size using scissors or a utility knife. Then, firmly press the length using a hand roller to the roof deck.
To create a watertight layer, you can layer each previous course by three inches. Then layer the end piece of the roll by 6 inches between the courses.
Now, you know what roll roofing is and the information about it. You have to check if your roof is suitable to install. The roll roofing is typically more fitted for the low-slopped roofs because the flatness is designed to handle the procedure.